SOLUTIONS THAT OPTIMIZE YOUR OPERATIONS
Frequent IT disruptions in day-to-day operations cost your business more than you think. Thus, providing reliable IT services for your customers is required to achieve a seamless experience with minimal to no downtime.
These days, IT departments are essential to keep a business up and running. Through technology, these teams can work in-house or be outsourced and work remotely. You can trust them to manage and maintain your IT systems and infrastructure to avoid unwanted interruptions.
The Remote Group's IT services are tailored based on your requirements so we can solve complex problems and plan the scalability of your business.
OUTSOURCED IT SUPPORT
BY THE NUMBER
How a remote IT team helps your business grow
WHO NEEDS TO
OUTSOURCE IT

?
Outsourced IT services can benefit a wide range of businesses and organizations, regardless of their size and industry. Here are the types of businesses that can take advantage of IT outsourcing:
Enhance the quality and productivity of your IT operations
Provide tailor-fitted solutions to support your daily operations
Proactively recommend and devise digital transformation strategies
Keeps your regulatory compliance updated
WHY BUSINESSES
OUTSOURCE IT SERVICES

WITH TRG
Clients see us as their reliable outsourcing partner due to these initiatives
BUSINESS CHALLENGES THAT IT OUTSOURCING SOLVES
LACK OF TECHNOLOGY EXPERTISE
Many businesses lack the expertise required to manage and maintain their IT infrastructure. Outsourcing IT services can provide access to a team of experienced professionals who specialize in different areas of the industry.
BALLOONING IT EXPENSES
The costs of an in-house IT department can be expensive, especially for SMEs. Not to mention, the training and hiring processes may also take up other resources. Outsourcing IT services can provide cost savings, as businesses only pay for the services they need and can scale up or down as required.
DATA SECURITY RISKS
As businesses of all sizes face an increased risk of cyber attacks and breaches, implementing strong security measures is crucial. By partnering with a trusted IT service provider, businesses can implement and maintain robust security measures, such as firewalls, encryption, and access controls. This, in turn, can help safeguard sensitive data and protect your company's reputation.
OBSTACLES TO SCALABILITY
As businesses grow, their IT needs will become more complex. Outsourced IT services can provide scalable solutions that can grow or shrink as needed without the need to invest in additional hardware or staff.
UNEXPECTED DOWNTIMES
IT downtimes can cause several problems, such as data loss, reduced productivity, delayed services, and security risks. These issues can occur due to server crashes or network outages. Outsourcing IT services can offer proactive monitoring and maintenance, which can help prevent such problems and minimize downtime when it occurs. This can help ensure that your business operations continue to run smoothly without interruptions.
COMPLIANCE
IT is not an exception to strict regulations around data privacy, security, and reporting. Outsourced IT services can help businesses stay compliant with these regulations, reducing the risk of penalties or legal action.
EMPLOYEE PRODUCTIVITY
IT issues can cause significant distractions for employees, which can affect their ability to concentrate on core tasks. Outsourcing IT services can provide fast and effective support, reducing the impact of such problems on employee productivity.
IT OUTSOURCING PHILIPPINES

: WHY PHILIPPINES IS A PRIME OUTSOURCING DESTINATION
Ranking 9
th
out of 50 countries on the
Kearney Global Services Location Index
(GSLI), the
Philippines
continues to be one of the leading
outsourcing
choices for businesses all over the world. With over
1.3 million Filipinos
employed in the
IT
-BPM sector, it is considered one of the most outsourced services in the country. Here's why businesses choose the Philippines above the rest:
Learn More About Outsourcing
Want to learn even more about outsourcing? Download our digital brochure to explore the many possibilities of working with The Remote Group.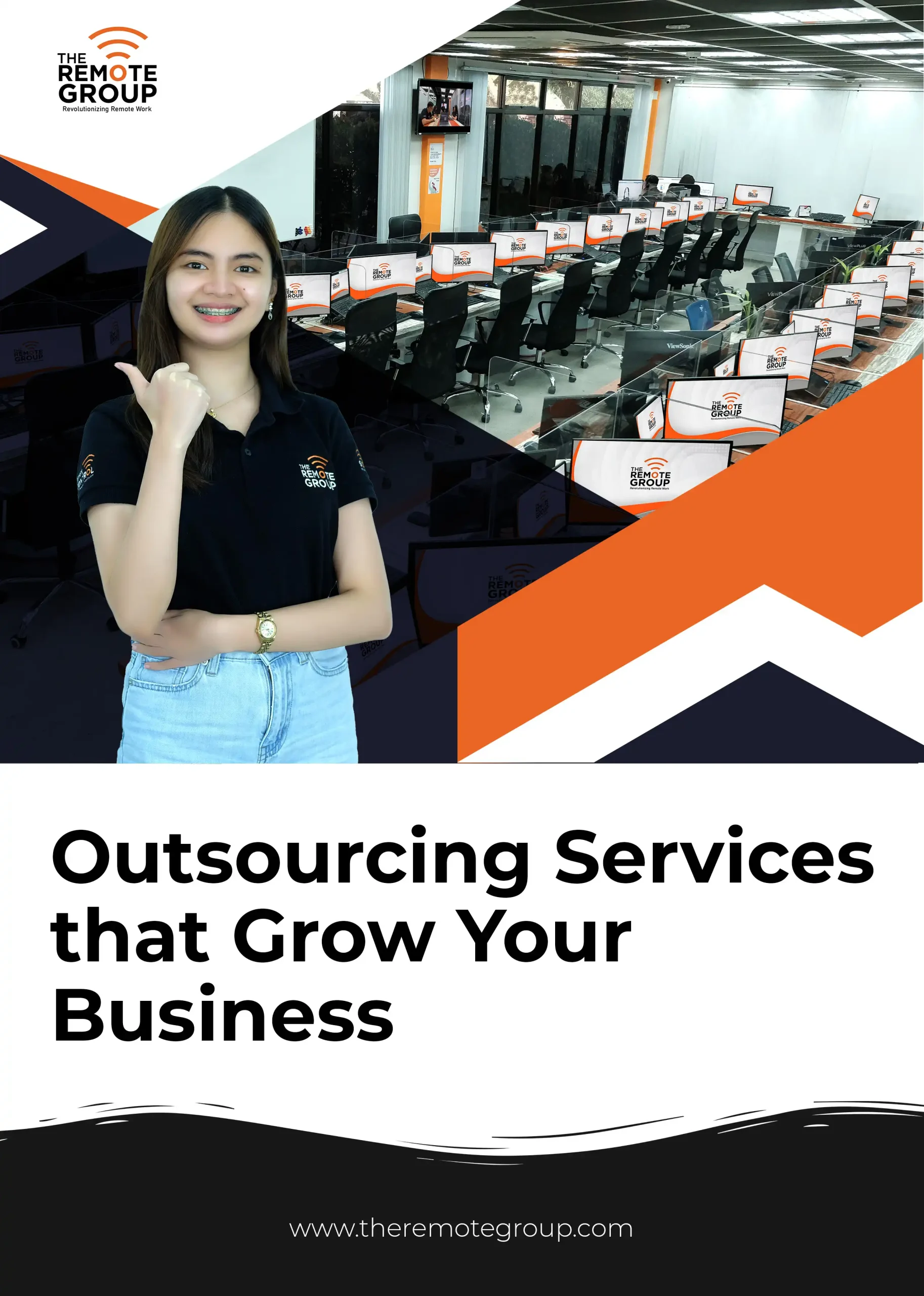 All you need to know about
Outsourced IT Services
Remember the last time you encountered an issue on your...
Grow your remote team and upscale your business for a fraction of the cost through The Remote Group's outsourced IT services.