According to the Professional Regulation Commission (PRC), the Philippines is home to 951,105 registered nurses and 159,283 physicians in 2023. The PRC also reported that there were 1.6 million registered professionals across different fields, such as medicine, nursing, dentistry, pharmacy, and allied health sciences as of 2021. This data underscores the significant contribution healthcare professionals make to the healthcare industry.
The country has a long-standing tradition of providing quality nursing education, with many nursing schools ranking highly in international accreditation bodies. In fact, this contributed to the Philippines' reputation as a major supplier of nurses globally.
Despite the large pool of nurses in the Philippines, many of them face difficulty finding stable and well-compensated positions in the traditional healthcare sector. However, their dedication to the nursing profession remains unwavering, as they are committed to providing quality care and making a positive impact on their patients. This is a testament to their excellence and professionalism.
THE RISE OF HEALTHCARE OUTSOURCING IN THE COUNTRY
To find a more suitable job that also aligns with their passion for the healthcare industry, many Filipino nurses are now exploring alternative career options. One such option is seeking work in the healthcare outsourcing industry, which has seen significant growth in recent years due to the increasing demand for healthcare services in developed countries and the need for cost-effective solutions. By working in this industry, nurses effectively showcase their expertise, gain new skills, work with cutting-edge technologies, and collaborate with healthcare professionals from different parts of the world. This also enhances their professional development and contributes to the growth and advancement of the healthcare industry both in the Philippines and in their clients' homelands.
The growing trend of registered nurses in the Philippines leaning towards the healthcare outsourcing industry is a testament to their resilience and adaptability. It also reflects the changing healthcare environment, which is increasingly driven by innovation and technology.
NAVIGATE HEALTHCARE'S CHANGING LANDSCAPE THROUGH OUTSOURCING
The healthcare industry is a multifaceted and dynamic field, encompassing various stakeholders, including patients, healthcare providers, and government regulators. However, the COVID-19 pandemic that happened back in mid-March of 2020, has created a significant and permanent change in the industry. With healthcare providers facing unprecedented challenges such as increased patient volumes, staff shortages, and resource constraints, healthcare providers have had to rapidly adopt new technologies to support remote care and maintain continuity of care for their patients. Outsourcing healthcare virtual assistants is one way to address these challenges and support healthcare providers.
Virtual assistants can help healthcare providers streamline administrative tasks such as appointment scheduling, medical record management, and insurance verification, allowing providers to focus on delivering high-quality care to their patients. Virtual assistants can also improve patient communication by sending appointment reminders, providing post-visit follow-up, and answering common questions, leading to improved patient satisfaction and better health outcomes.
Furthermore, virtual assistants can help healthcare providers offer more personalized care by collecting and analyzing data on patients' medical histories, lifestyle habits, and health goals. With this information, virtual assistants can help providers create tailored treatment plans that address patients' unique needs, leading to improved treatment outcomes and higher patient satisfaction. Ultimately, this can contribute to better patient retention and improved business outcomes for healthcare providers.
HASSLE-FREE
HEALTHCARE SUPPORT
The Remote Group is HIPAA-compliant. Our healthcare virtual assistants and professionals are highly trained to handle confidential information, provide exceptional service, and improve your efficiency.
HEALTHCARE OUTSOURCING SERVICES
BENEFITS OF OUTSOURCING HEALTHCARE
Healthcare virtual assistants provide several advantages to healthcare industries and professionals who use their services:
WHO BENEFITS FROM OUTSOURCING HEALTHCARE
Healthcare virtual assistants can offer their services to any healthcare facility that requires support, such as:
SKILLS AND QUALIFICATIONS OF OUTSOURCED
HEALTHCARE VIRTUAL ASSISTANTS
In the healthcare industry, virtual assistants have become a valuable resource for healthcare providers looking to improve their efficiency and provide high-quality care to their patients. To ensure that we provide the best professionals to effectively support your medical practice, here are the skills and qualifications we look for when outsourcing a healthcare virtual assistant:
Outsource Healthcare Virtual Assistant
WHAT YOU CAN EXPECT FROM OUR
HEALTHCARE VIRTUAL ASSISTANTS
SIGNS YOU SHOULD HIRE A HEALTHCARE VA
Knowing when to outsource tasks or services to a healthcare virtual assistant can be crucial in the success of your medical business or profession. Consider hiring an HVA when you and your team encounter the following challenges:
Hiring a healthcare virtual assistant can be a solution to the challenges mentioned above. According to a study, virtual assistants can increase your productivity by 13%. Partnering with a reliable and trustworthy business process outsourcing (BPO) firm can help you find the right healthcare virtual assistant for your medical practice.
Established BPO firms assure the connection with skilled and experienced healthcare VAs that can add value to your business, while also ensuring the confidentiality and security of sensitive patient information. By outsourcing an HVA, you can generate more profits, reduce overhead costs, and scale your business more efficiently.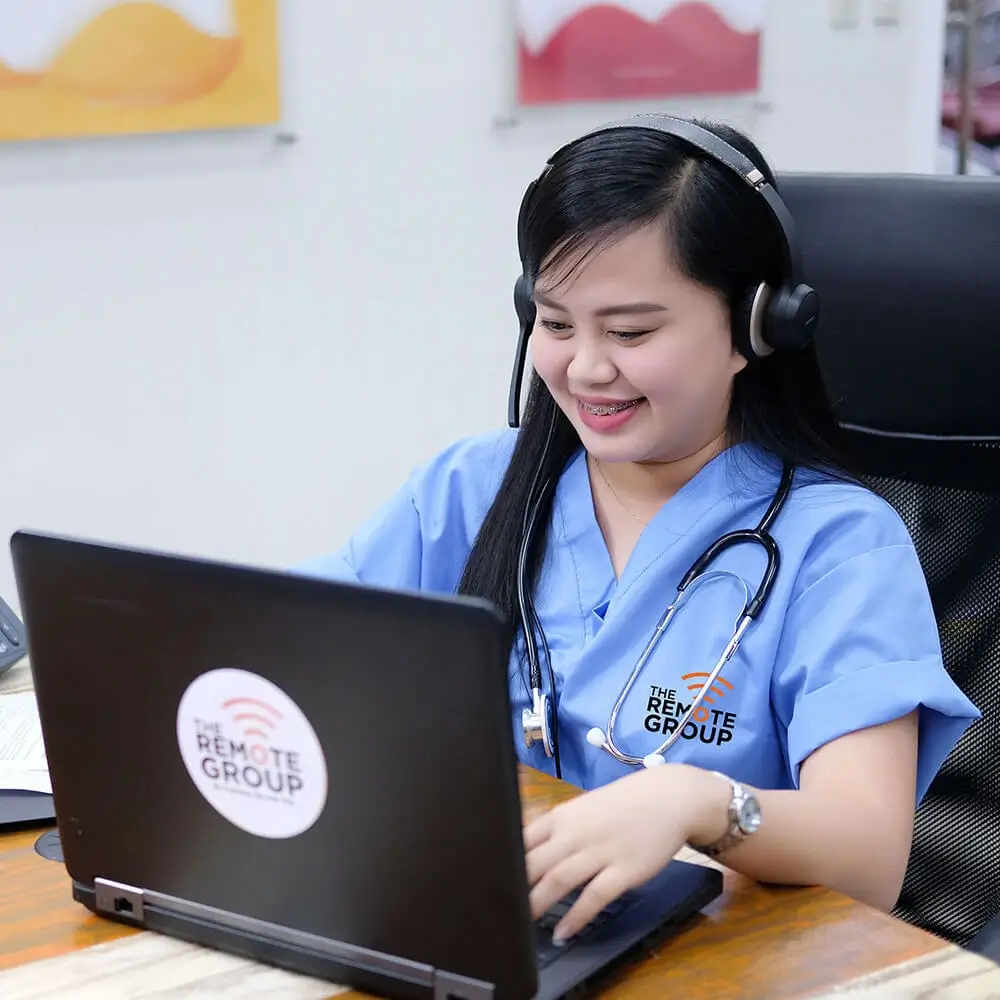 THINGS TO CONSIDER BEFORE OUTSOURCING HEALTHCARE SERVICES
All healthcare virtual assistants have their own specialty, so you should first assess what specific service suits your needs before you hire a healthcare VA.
Will you require more administrative support? Do you need a transcriber during consultations? Do you need to assign someone to handle insurance verification and concerns? Answering these questions will make it easier for you to figure out what you need.
Once you've decided what type of healthcare VA to hire, it's important to know what qualities to look for. HVAs who have keen attention to detail, a strong work ethic, proactiveness, and dedication produce the best service.
Learn More About Outsourcing
Want to learn even more about outsourcing? Download our digital brochure to explore the many possibilities of working with The Remote Group.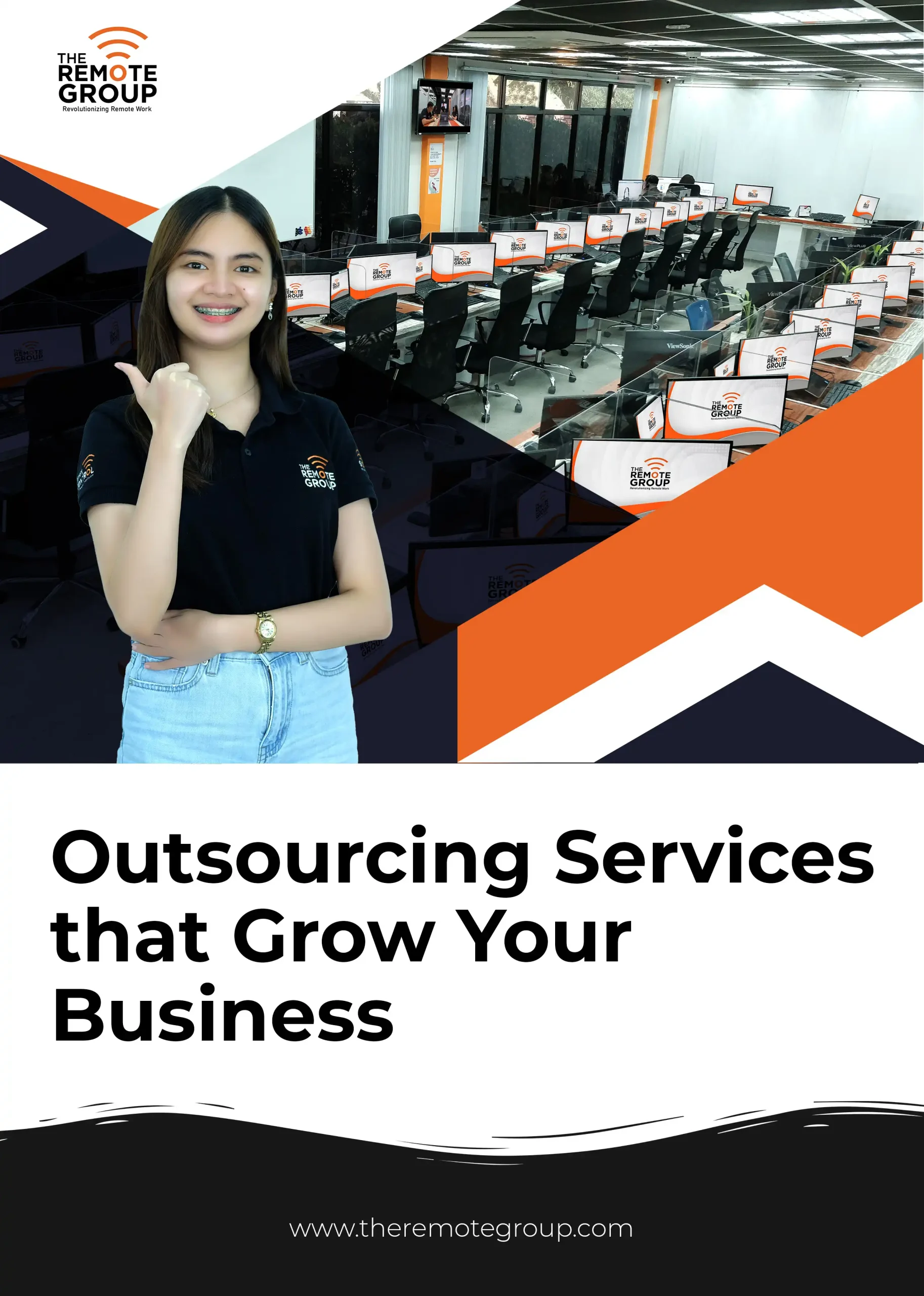 All you need to know about
Outsourced HealthCare Virtual Assistants
Medical Virtual Assistants (Med VAs) are transforming the medical industry. Physicians and other medical practitioners have expressed their enthusiasm about...
Grow your remote team and upscale your business for a fraction of the cost through
The Remote Group
's outsourced healthcare virtual assistant services.