Making premier travel experiences within reach
Thousands of travel and tourism businesses compete to be the provider of choice for tourists flocking to their destinations. Winning them over requires more than just picturesque views and adrenaline-rushing activities. People pay for experiences, and the more personalized an experience is, the more willing they are to spend.
Not having to worry about your back-office tasks gives you freedom and more time to deliver a customer experience that will make your brand truly memorable. Enlisting the help of a remote team makes your life easier; they will be the bloodline of your operations while your in-house team focuses on the heart of your business.
Outsourcing roles such as after-hours customer service support, payment processors, property managers, admin support, and more is a cost-effective solution that grows your business while shrinking expenses significantly.
Outsourced Travel and Tourism for
TRAVEL AND TOURISM
SERVICES
Start your outsourcing journey with back-office services that increase your productivity. Have a remote team on standby no matter the shifts and turns of the travel industry.
ACCOUNTING AND BOOKKEEPING
Every business needs diligent and accurate record-keeping when it comes to its finances. After all, this is one of the main factors that drives business decisions.
Our accounting and bookkeeping specialists take the burden off your in-house team. They maintain your books and ensure all expenses are accounted for.
BILINGUAL SUPPORT
Cultural and language barriers can be a hindrance when traveling. Fortunately, our Bilingual support agents are well-versed in different languages to help your clients have the ultimate experience while simultaneously supporting them in overcoming linguistic barriers.
CUSTOMER SERVICE REPRESENTATIVES
When tourists know they can constantly rely on someone on the other end of the line, they are more likely to trust your business. Our Customer Service Representatives (CSRs) are highly trained to handle issues and concerns people are bound to encounter along the way.
They can provide after-hours service from your local time zone, making your customer service operations available 24/7. CSRs are also key to personalizing travel experiences as they are the frontliners and are typically the first people tourists speak with when processing requests and inquiries.
DIGITAL MARKETING
Want to attract more guests? That's where our digital marketing team comes in. They work on enhancing your online presence and creating content—whether it's blogs, photos, or videos—to showcase everything your business has to offer.
Another thing they specialize in is growing your engagement and building your brand authority. In this way, your business is more likely to be seen as a trusted and credible provider above the rest.
LIVE CHAT CUSTOMER SERVICE
For those who aren't keen on talking over the phone, live chat support is another viable option. In fact, live chat is now a more popular option than phone calls. It also helps that customers know they're talking to an actual person rather than an AI or a bot.
Our live chat support agents provide more than just support to your clients; they also document complaints, concerns, and inquiries to build a knowledge database the whole customer service team can use for reference.
Delayed flights, missing bookings, long queues—scratch that. Our services aim to minimize these inconveniences from occurring.
Traveling shouldn't be stressful. We're here to help change the outdated practices of traveling by providing smart, seamless, and simple solutions that enhance the overall tourist experience of every traveler.
THE FUTURE OF TOURISM IS HERE
Here's why tourism businesses outsource with The Remote Group
WHAT WE DO FOR TRAVEL AND TOURISM BUSINESSES
The Remote Group works hand-in-hand with several partners in the tourism and travel industry.
Learn More About Outsourcing
Want to learn even more about outsourcing? Download our digital brochure to explore the many possibilities of working with The Remote Group.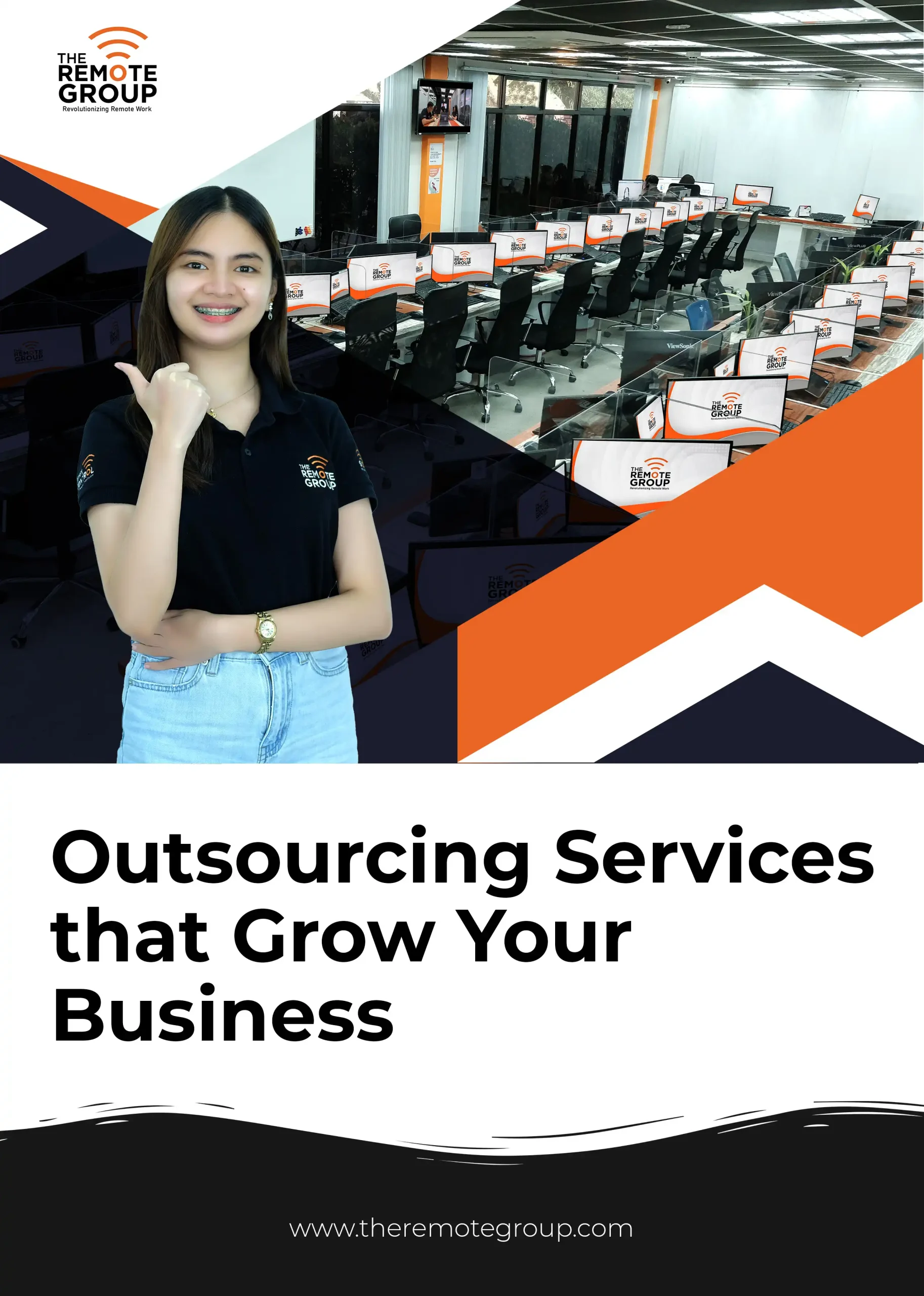 All you need to know about
Outsourced Travel and Tourism Services
Grow your remote team
and
upscale your business
for a fraction of the cost through
The Remote Group
's outsourced travel and tourism services.