Filipino healthcare professionals are highly regarded around the world. The 310,000 nurses working abroad are living proof of that. Employers prefer Filipinos over other nationalities, even when looking for virtual health assistants.
Knowing the benefits that a virtual health assistant brings to a business, it's no wonder why more medical practices are considering hiring a VA of their own.
The Philippines is considered one of the prime outsourcing destinations when it comes to hiring virtual health assistants. The low costs, quality of medical professionals, and high fluency in English are just a few highlights that attract foreign businesses.
Why Hire Filipino
Virtual Health Assistants
Medical practices, clinics, and other health facilities all over the world can attest to the added value of having a Filipino healthcare VA. Take a look at some of the reasons why they choose to outsource to the Philippines:
1. Proficiency, Skill, and Quality
Hundreds of thousands of medical professionals in the country undergo years of formal education and training to gain their licenses. This is to ensure their competencies are up to par with global standards and that they can keep up with their international counterparts.
Hiring virtual health assistants without a license is quite common as well. Their background, knowledge, and know-how of the medical industry are a big plus for employers, especially those that don't require technical expertise but rather assistance on the administrative side.
2. Communication and Culture
Open communication is essential to having a successful working relationship, especially if one of your staff members is working virtually. Fortunately, Filipinos keep an enthusiastic attitude when communicating with clients. They're also very comfortable receiving constructive criticism and are willing to share ideas and suggestions when needed.
Philippine culture closely mirrors Western ideals. Through this, it's easier for Filipino healthcare VAs to integrate themselves with an employer's local team. Having cultures that align makes it easier for teams to mesh well and have harmonious working relationships.
3. Self-starters and trainable for leadership roles
Businesses prefer Filipinos when outsourcing because of their initiative and enthusiasm to upskill and learn more beyond their current role. They exhibit qualities that are fit for bigger roles that require taking on more responsibility.
With such skills and attitudes, it would be a waste not to help them reach their full potential. Employers looking to expand their remote team can tap their Filipino virtual health assistants and train them to become team managers. Their solid knowledge of your operational and technical foundations is valuable in training new members of your team.
4. Adaptable to working in different time zones
Because the Philippines is in the GMT time zone, it has opposite hours to Western countries such as the United States and the United Kingdom. However, working nocturnal hours isn't an issue for Filipino virtual health assistants.
The rise of the BPO industry in the country has made most people adaptable to working midday or night shifts. Employers can also take advantage of the time zone difference to keep their operations running 24/7.
Signs You Should Hire a Virtual Health Assistant
How do you know it's time to outsource services or tasks to a virtual health assistant? When your business or your team starts experiencing the following, then it might be time to consider hiring an extra helping hand to take the burden off your shoulders:
Hiring a virtual health assistant helps get rid of the issues mentioned above. In fact, a study shows that virtual assistants can make your team 13% more productive.
Collaborating with a credible and trustworthy BPO firm helps you be successful in your quest for outsourcing. Tried and tested companies also guarantee to connect you with quality, experienced healthcare VAs that add value to your medical practice.
Outsource With
The Remote Group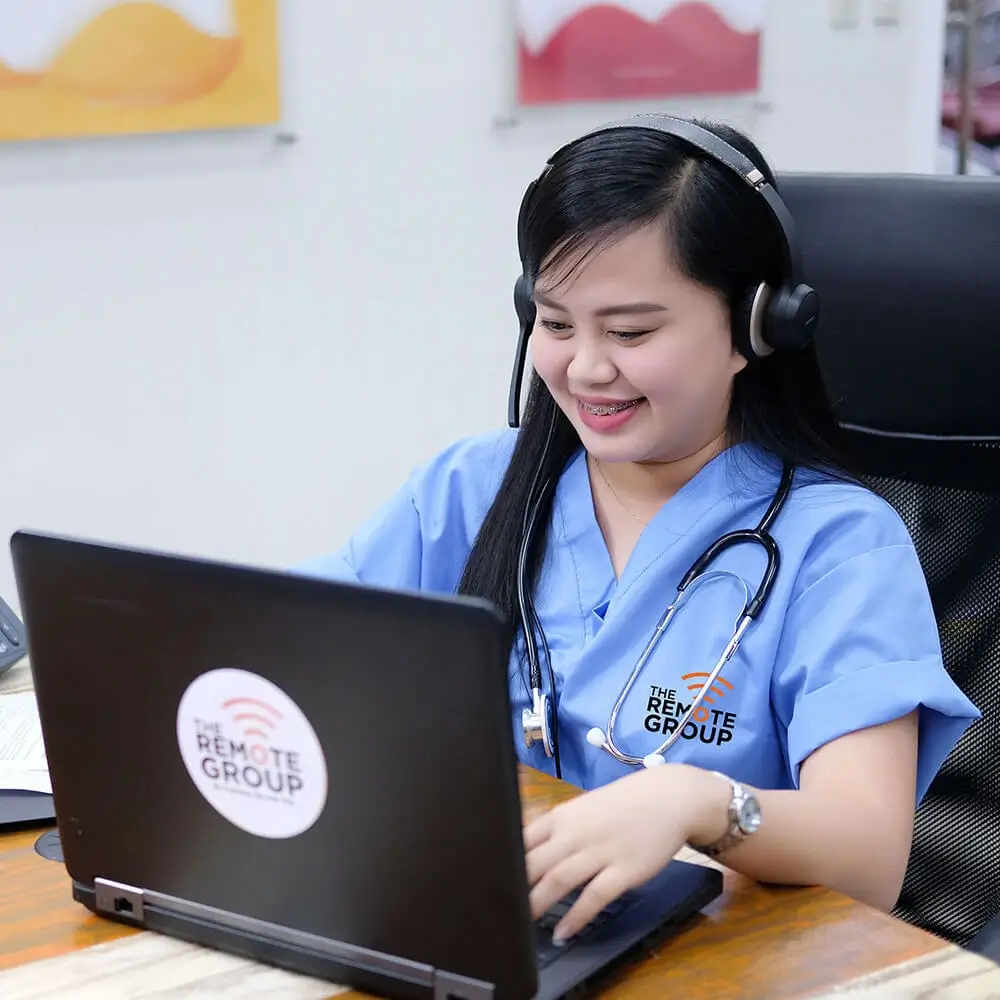 The Remote Group is HIPAA-compliant and offers healthcare virtual assistant services that help medical practices save up to 70% on overhead and employment costs. They cater to a variety of healthcare services, including medical scribe, medical billing, medical receptionist, virtual pharmacist, and telemedicine support.
Get in touch with our outsourcing experts and hire your own healthcare virtual assistant today!